Polling Place Accessibility
Getting Assistance While Voting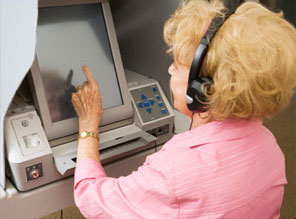 Voters who have a disability, have physical limitations or have limited English proficiency can ask for assistance at the polling place. Voters may also contact their county election official before Election Day to ask for assistance.
Citizen with a Disability
In some cases, a polling place may not be easily accessible for those with disabilities. You can contact your local County Election Official if special arrangements are needed.
If your polling place is deemed inaccessible, please cast an absentee ballot.
Elderly Voter
If you feel you cannot access your polling place on the day of the election, please fill out an absentee ballot application and mail it to your County Election Official to receive an absentee ballot. Download an absentee ballot application by clicking this button: