South Dakota Salutes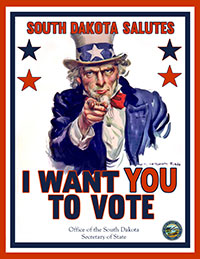 South Dakota Salutes our veterans by enforcing what they choose to stand for; our rights. Whether they are no longer with us, currently deployed overseas, or blessed enough to be home with their families, this is an opportunity for all South Dakotans to honor a veteran. We invite anyone interested in the program to sign up on our website and leave a story about who you are honoring.
---
Please fill out the following information to Honor a Veteran.
*denotes required fields
Once your information is entered, your message to a Veteran will be posted on this page. (Please Note: the Secretary of State's office reserves the right to edit any submissions and/or remove any inappropriate language or testimonial.)