Oglala Sioux Tribe Memorandum of Understanding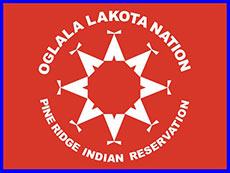 A Memorandum of Understanding was first signed on July 30, 2008, between the Oglala Sioux Tribe and the South Dakota Secretary of State allowing the Oglala Sioux Tribe to partner with and use the Secretary of State's uniform commercial code filing system to file liens. This agreement provides the ability for tribal members to have their collateral perfected, making loans more available from lending institutions and ultimately helping create business and economic development on the reservation.
Oglala Sioux Tribe Non-Binding MOU
The MOU is renewed every 7 years since the original signing in 2008. On August 29, 2022 the compact was renewed for a second time by South Dakota Secretary of State Steve Barnett and Oglala Sioux Tribe President Kevin Killer, in a ceremony at Pine Ridge.
Oglala Sioux Tribe MOU Re-Signing Ceremony Program